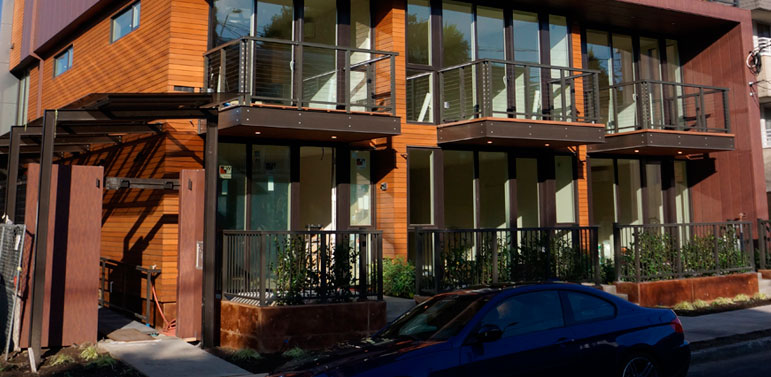 Come Join Our Community Today!
We have 23 spacious apartment units in a dog friendly complex.
Your high efficiency city lifestyle awaits you at 109 – 12th Ave.
See you there.
(Please note: if you are applying for a unit, there will be a $25 non-refundable
application fee per applicate).
| Unit | Floor Plans | Amenities | Monthly | Deposit | Date Avail | Availability |
| --- | --- | --- | --- | --- | --- | --- |
| 002 | | 1 bedroom, 1 bath. Lower level, Open floor plan | $2,295 | $2000 | 5/1/24 | Leased |
| 102 | | 1 bedroom, 1 bath. Garden View, Open floor plan | $2,395 | $2000 | 5/1/24 | Leased |
| 101 | | 1 bedroom, 1 bath. Private entrance | $2,295 | $2000 | 6/10/24 | Leased |
| 103 | | 1 bedroom, 1 bath. Private entrance, Handicap unit | $2,295 | $2000 | 11/1/23 | Apply Now |
| 105 | | 1 bedroom, 1 bath. Private entrance | $2,195 | $2000 | 5/31/24 | Leased |
| 201 | | 1 bedroom, 1 bath. East facing private deck | $2095 | $1500 | 6/15/24 | Leased |
| 202 | | 1 bedroom, 1 bath. West facing private deck | $2,495 | $2000 | 6/4/24 | Leased |
| 203 | | 1 bedroom, 1 bath. East facing private deck | $2,295 | $2000 | 9/5/24 | Leased |
| 204 | | 1 bedroom, 1 bath. West facing private deck | $2,195 | $2000 | 7/1/24 | Leased |
| 205 | | 1 bedroom, 1 bath. East facing private deck. Parking available | $2,495 | $2000 | 10/15/24 | Leased |
| 206 | | 1 bedroom, 1 bath. West facing private deck | $2,445 | $2000 | 5/5/24 | Leased |
| 301 | | 1 bedroom, 1 bath. East facing private deck | $2,250 | $2000 | 3/1/24 | Leased |
| 302 | | 1 bedroom, 1 bath. West facing deck with city views | $2,295 | $2000 | 4/1/24 | Leased |
| 303 | | 1 bedroom, 1 bath. East facing private deck | $2,295 | $2000 | 6/10/24 | Leased |
| 304 | | 1 bedroom, 1 bath. West facing deck with city views | $2,345 | $2000 | 7/10/24 | Leased |
| 305 | | 1 bedroom, 1 bath. East facing private deck | $2,295 | $2000 | 4/10/24 | Leased |
| 306 | | 1 bedroom, 1 bath. West facing deck with city views | $2,595 | $2200 | 11/10/24 | Leased |
| 401 | | 1 bedroom, 1 bath. East facing private deck | $2,495 | $2000 | 9/1/24 | Leased |
| 402 | | 1 bedroom, 1 bath. West facing deck with outstanding city views | $2,395 | $2000 | 8/5/24 | Leased |
| 403 | | 1 bedroom, 1 bath. East facing private deck | $2295 | $1500 | 6/1/24 | Leased |
| 404 | | 1 bedroom, 1 bath. West facing deck with outstanding city views | $2,595 | $2000 | 5/1/24 | Leased |
| 405 | | 1 bedroom, 1 bath. East facing private deck | $2,345 | $2000 | 9/1/24 | Leased |
| 406 | | 1 bedroom, 1 bath. West facing deck with outstanding city views | $2,595 | $2000 | 12/1/23 | Apply Now |
| | | | | | | |